Coffee is one of the world's most popular beverages, and its popularity shows no signs of abating. Coffee has a complex history and culture that is intriguing to examine, from its origins in Ethiopia to its current role as a global commodity. Whether you enjoy coffee or are simply interested about this popular beverage, there are many intriguing facts about coffee to discover. This topic will go into the numerous aspects of coffee and its significance in our everyday lives, from the science behind making the ideal cup to the economic implications of the coffee industry. Pour yourself a cup of coffee and prepare to get immersed in the world of coffee facts!
22 General Coffee Facts and Statistics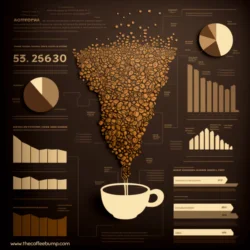 Brazil is the leading coffee producer with almost 4 billion coffee trees.
Coffee beans are hard when they are cultivated at a higher altitude of over 5000 feet.
Japan is actually the third largest coffee consumer in the world, and they use coffee grounds for beauty treatments, like bathing and skin care.
Olympic athletes can only drink up to 5 cups of coffee because their urine is tested for specific amounts of caffeine, or else they will be disqualified.
Espresso has one third of the caffeine of a regular cup of Joe.
We all refer to coffee beans as "beans", but they are truly berries.
The word "Supremo" does not refer to the quality of the coffee beans, but their size.
The first coffee houses in Constantinople were called schools of wisdom, and scholars met there to discuss literature and art.
The Turkish term for a barista is a "kahveci".
A coffee variety known as "Black Ivory" is made by feeding coffee cherries to elephants, who digest the cherries and excrete the beans. The beans are then cleaned, roasted, and brewed to make coffee.
The world's largest coffee roaster is located in Seattle, Washington, and is operated by Starbucks.
Approximately 50% of the coffee crop in the world is used to produce instant coffee.
The Pronounce of "coffee grounds" in Arabic is "bunn", From which the famous coffee machine manufacturer derives its name.
Coffee beans are not actually beans, but they are the pits found within coffee cherries or berries.
Coffee flower is also used as a decorative material for gardens and as an ingredient for perfumes.
Coffee is not natively grown in Costa Rica, but Cuban coffee trees were brought to Costa Rica in 1779 by a Spanish traveler.
The largest coffee beans in the world are found in Nicaragua Maragogipe, and they are the Arabica variety.
A complete acre of coffee will yield 10,000 pounds of coffee cherries, which grosses 2,000 total pounds of unroasted coffee beans.
The most expensive coffee in the world is the Kopi Luwak beans, which costs anywhere from $100-$600 a pound.
To be considered a "barista" professional one must attend a barista training, be certified and/or compete in barista competitions.
The World Barista Championship (WBC) is an annual competition that brings together the best baristas from around the world to compete in the art of espresso making.
Coffee is a major source of export revenue for many countries, and the coffee trade is a multi-billion dollar industry.
25 Coffee Historical Facts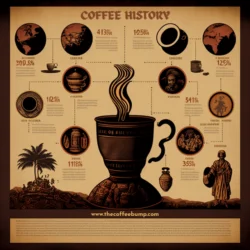 The word coffee came from the Arabic word "qahwah".
Cup of Joe origin comes from G.I. Joes from world war II.
Flavored coffee became popular only in the US in the 1970s and then spread worldwide.
Coffee was said to be attributed to the Arabs, which is why the Europeans called it "Arabian Wine".
Bach wrote a coffee cantata in the 1700s.
Café au lait was invented in France by a physicist for medicinal purposes in the 1600s.
Most Americans were using a manual coffee grinder in their homes by the 1850s.
In the Civil War, coffee was one of the main rations of the soldiers.
The Dutch were the reason to introduce coffee to the Americas.
Ethiopian Orthodox Church in the 18th century banned drinking coffee for more than a century.
The earliest mention of using coffee was by Muhammad ibn Zakariya al-Razi in the 10th century.
Drinking coffee became popular in USA in 1773 during the famous "Boston Tea Party" protests which after, drinking coffee considered patriotic.
The first patent for a coffee percolator was issued in 1865 to James H. Mason.
The act of adding milk to coffee can be traced back to the 17th century in England, where it was used to soften the harsh taste of the coffee.
Coffee entered India through smuggling beans by a man called "Baba Budan" who bought it from Yemen in the 17th century.
In ancient times, grooms in Turkey were required to vow to their new wife that they would always give her coffee, or else they would get divorced!
The name "coffee" was actually originally used for wine because it looked black from dark berries, and it was then substituted when coffee was used instead of wine to stay awake in religious all night prayer meetings, and the name stuck with it.
The world's first instant coffee was invented by George Constant Louis Washington in 1906.
Indonesia used to grow Arabica until a major dieses affect most of the plants called "Coffee Rust" then they shifted to the Robusta.
The coffee vacuum brewer was invented in 1840 by a Scottish engineer.
The first American coffee trader began selling coffee in 1670 after she was given a license to do so.
The process of decaffeination was first developed in Germany in the early 20th century.
The world's oldest coffee plant is over 100 years old and is located in the Royal Botanic Gardens, Kew in London.
The world's first coffeehouse, called Kiva Han, was opened in Constantinople (present-day Istanbul) in 1475.
The largest coffee pot ever made was in the town of Stanton, Iowa in the 1950s, it was able to brew around 150 gallons of coffee at a time.
15 Espresso Facts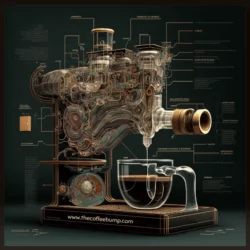 Espresso means fast in Italian (the espresso machine means the fast machine in Italy).
The first patent for an espresso machine was filed in 1884 by Angelo Moriondo, an Italian inventor.
Luigi Bezzera invented the Espresso machine.
Espresso machines were first used commercially in Italy in the early 1900s, and quickly spread in popularity throughout Europe.
Before the contemporary espresso machine, coffee was brewed via a process known as the "moka pot," which is still used in some homes today.
Espresso is the base for many other coffee drinks, such as cappuccino, latte, and Americano.
Espresso is frequently used as a flavoring element in cooking and baking, as well as as a base for coffee liqueurs such as Kahlua.
The Specialty Coffee Association of America (SCAA) has established a set of espresso brewing standards, including extraction time, yield, and temperature restrictions.
Espresso can be made with different types of beans, but Robusta beans are more commonly used because they are cheaper and have a higher caffeine content.
Some coffee enthusiasts believe that espresso should not have any sugar added to it, as it is meant to showcase the natural flavors of the coffee beans.
The perfect espresso shot should be 1-2 ounces in size and brewed at temperatures ranging from 190 to 202°F.
In an espresso shot, the coffee-to-water ratio should be roughly 1:2, with the coffee finely ground to a consistency comparable to granulated sugar.
The pressure used to brew espresso should be around 9 bar (130 psi).
The ideal extraction time for an espresso shot is between 25 and 30 seconds, with the first drops of coffee, referred to as the "blonde," appearing at 15 seconds and the shot completing in 30 seconds.
Espresso machines vary in price and complexity, from simple manual lever machines to highly advanced semi-automatic or fully automatic machines.
12 USA Coffee Facts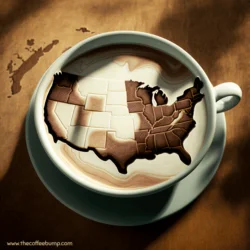 Specialty coffee sales have been increasing by 20% on a yearly basis, and they make up almost 8% of the US coffee market that encompasses $18 billion.
50% of the US population, which equals 150 million people, regularly drink specialty espresso beverages.
The average consumption for a United States coffee drinker is 3.1 cups of Joe each day.
Small, independent coffee houses gross 12 billion total in annual sales.
The average coffee shop drive-thru sells up to 300 cups of coffee and espresso on a daily basis.
For all Americans over 18, 50% drink Java daily. However, Finland takes the cake with the highest coffee consumption worldwide each day.
In the US, men consume as much coffee as women do, though women are more concerned with paying the price for expensive coffee drinks.
Up to 65% of all coffee that is consumed is during breakfast, 30% is during the day between meals, and the last 5% is with lunch or dinner.
35% of US coffee drinkers enjoy their Java black.
65% of American coffee drinkers add cream and sugar to their cup of Joe.
Not surprisingly, Seattle has the highest number of coffee shops per 100,000 residents in the city. Manhattan and San Francisco nearly tie for second but are nowhere near as close in their coffee shop population as Seattle.
The United States alone imports over $4 billion worth of coffee products on a yearly basis.
10 Coffee Consumption Statistics
Finland has the highest per capita coffee consumption, with the average Finn consuming approximately 12 kilograms (26.5 lbs.) of coffee each year.
Norway ranks second in per capita coffee consumption, with the average Norwegian eating approximately 9 kg (20 lbs.) of coffee each year.
Iceland ranks third, with the average Icelander eating approximately 8 kg (17.6 lbs) of coffee per year.
Denmark: The average Dane consumes 7.9 kg (17.4 lbs.) of coffee per year.
The Dutch consumes an average of 7.5 kilograms (16.5 lbs.) of coffee per person per year.
Switzerland: Swiss people drink an average of 7.3 kilograms (16.1 lbs.) of coffee each year.
Sweden: The average Swede consumes 7.2 kg (15.9 lbs.) of coffee per year.
Belgium: Belgians consume 6.8 kg (15 lbs.) of coffee per capita per year.
Luxembourg: The average Luxembourger consumes 6.5 kilograms (14.3 lbs.) of coffee per year.
The United States uses an average of 4.2 kg (9.3 lbs.) of coffee per person per year.
8 Coffee Machines Facts
The first automatic coffee machine was invented in the 1940s by Eric and Lars Ljungbo of Sweden.
The first coffee pod machine, called the "Sensuale," was invented in 1986 by Eric Favre in Switzerland.
The first single-serve coffee machine, called the "K-Cup," was invented by John Sylvan in 1997.
The first super-automatic coffee machine was invented in the early 2000s and can grind, dose, tamp, and brew coffee with the push of a button.
The most popular type of coffee machine in commercial settings is the semi-automatic espresso machine, which allows for manual control of certain functions such as the amount of water dispensed.
The most popular type of coffee machine in home settings is the drip coffee maker, also known as a filter coffee maker.
Some high-end coffee machines can cost thousands of dollars and have advanced features such as built-in grinders and milk frothers.
Some coffee machines can be connected to the internet and be controlled by mobile apps, allowing you to start brewing your coffee remotely.
10 Coffee Bean Plantations Facts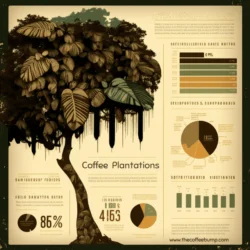 In the 15th century, Yemen established the world's first coffee plantation.
Coffee is grown in over 60 nations throughout the world, with Brazil, Vietnam, Colombia, and Indonesia being the main producers.
Coffee is usually grown at heights ranging from 600 to 2000 metres above sea level.
Arabica and Robusta are the two most prevalent varieties of coffee beans. Arabica beans are said to be of superior quality and have a milder flavor, whilst Robusta beans are stronger and contain more caffeine.
Pickers commonly work on steep, mountainous terrain when picking coffee beans by hand.
Before the beans can be processed, the coffee cherry that surrounds the bean must be removed. This is known as pulping, and it can be wet or dry depending on the locale.
Before being roasted, coffee beans are either sun-dried or machine dried to minimize moisture content.
Coffee trees typically begin producing beans after 3-4 years and peak output occurs between 7-10 years.
Coffee is regarded a key source of revenue for many developing countries, with millions of people relying on coffee farming for a living.
Coffee is one of the most pesticide-sprayed crops in the world, thus farmers must utilize sustainable growing practices' to limit environmental effect.
So with this knowledge up your sleeve, you will be sure to impress any coffee lover you know, or just have a smug expression on your face when you sip your latte!
You may feel like you are well acquainted with your morning cup of Joe, but I have some awesomely fun facts about Java to share with you that you may have never heard before.
How many of these fun facts did you already know?
There is truly so much more to your daily cup of Joe than meets the eye!
To summarize, coffee is an enthralling and complex subject that has played an important part in human history and culture. Coffee's journey from its roots in Ethiopia to its current status as a worldwide commodity has affected the way we consume and think about it. We've investigated the many sides of coffee, from the science behind making the ideal cup to the economic implications of the coffee business, and how it has become an integral part of our everyday lives. Whether you're a coffee enthusiast or just interested about this cherished beverage, there's no disputing its influence on our culture and society. So, the next time you take a drink of your coffee, take a moment to savor the story behind it and all the hard work that went into making it possible.