Introduction
Buying the best coffee beans may appear to be a difficult process, but it does not have to be. By following the advice and instructions in this article, you will be able to confidently traverse the world of coffee beans and choose the perfect brew for your taste. So whether you're looking to buy coffee for your personal use or for a coffee shop, you'll have all the information you need to make the right choice.
4 Reasons to Buy Good Coffee Beans
First, good coffee can provide a better taste and more satisfying experience. High-quality coffee beans are carefully grown, harvested, and processed to bring out the best flavor, aroma, and body. When you purchase good coffee, you're more likely to enjoy a cup that's rich in flavor and pleasing to your senses.
Second, good coffee can support sustainable and ethical farming practices. Many high-quality coffee beans are grown by farmers who use environmentally friendly methods and who are paid a fair price for their beans. This can help to support the local communities and economies where the beans are grown, as well as protecting the environment.
Third, good coffee can improve your overall health. Coffee contains antioxidants, which can help to prevent cell damage and lower the risk of certain diseases. Additionally, moderate coffee consumption has been linked to a reduced risk of type 2 diabetes, Parkinson's disease, and liver disease.
Fourth, buying good coffee can be a way to explore and appreciate the diversity of coffee. Each coffee region, varietal, and processing method creates unique flavor profiles, by buying good quality coffee, you'll be able to taste and appreciate the different nuances of coffee and to find your personal preference.
How Do You Choose The Best Tasting Coffee Beans?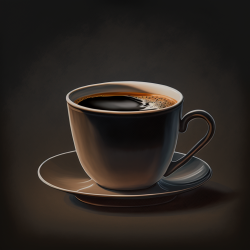 As a coffee connoisseur, it is important that you keep a few things in mind when you are trying to choose the best cup of Joe.
First of all, consider the method in which your coffee was grown. It is best to look for higher growing standards, such as Fair Trade or Organic coffee. This will directly contribute to the taste of your coffee beans, depending on the quality in the growing process. Furthermore, you can take the time to explore different regions of the world because specific soils and climates will increasingly affect the taste of your Java.
Next, you can begin to sample a variety of different coffees based on all of their various characteristics, such as the acidity, aroma, flavor, and body. These are all of the different impressions that you will get from your cup of Joe, but the greatest part of all is that you get to choose which one best complements your palette!
For instance, you may like a coffee with a fruity aroma and a light acidity that has a nutty flavor. If you prefer a lighter roast of coffee, it may also have a light or more gentle body on your tongue, meaning that it leaves a smoother finish in your mouth.
Understanding Coffee Beans
4 Different Types Of Coffee Beans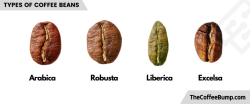 Arabica Coffee Beans Arabica coffee beans are the most common type of coffee bean, accounting for around 60% of the world's coffee production. These beans are grown at high altitudes and have a mild, sweet taste with notes of chocolate and fruit. Arabica coffee beans are often used in specialty coffee shops and are considered to be of higher quality than other types of coffee beans.
Robusta Coffee Beans Robusta coffee beans are the second most popular type of coffee bean, accounting for around 40% of the world's coffee production. These beans are grown at lower altitudes and have a stronger, more bitter taste than Arabica coffee beans. Robusta coffee beans are often used in instant coffee and espresso blends due to their high caffeine content.
Liberica Coffee Beans Liberica coffee beans are a lesser-known type of coffee bean, accounting for less than 1% of the world's coffee production. These beans have a distinct, fruity taste with a smoky, woody aroma. Liberica coffee beans are mostly grown in Southeast Asia and are often used in blends with other types of coffee beans.
Excelsa Coffee Beans Excelsa coffee beans are another lesser-known type of coffee bean, accounting for less than 1% of the world's coffee production. These beans have a tart, fruity taste with a nutty, chocolaty aroma. Excelsa coffee beans are often used in blends with other types of coffee beans.
How is Coffee Grown?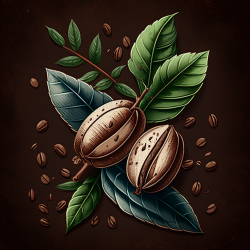 There are specific conditions that coffee needs to be harvested in to have the best taste and flavor, and the regions that you will see it hail from are Africa, India, Indonesia, Hawaii, Central America, Northern South America, and the Middle East. These are all regions near the equator that have a more steady climate with a high rainfall, and if any of these factors ever vary, then the coffee harvesters work hard to irrigate and aerate the soil so that the coffee plant's root system has a generous amount of oxygen to thrive and grow.
The best condition for coffee cultivation, however, is in higher altitudes at over 3,000 feet, even though this does have less oxygen for the plant, because it can grow slower and for a longer period of time for deeper and more mature flavors.
The coffee plant itself will take five years to grow for the first crop to be harvested, which will then yield the equivalent of 1 pound of coffee beans, which really makes you appreciate what you got in your everyday cup of Joe!
To learn more about how coffee beans are grown, harvested, and processed please read our coffee 101 guide.
Where is the Best Coffee Grown in the World?
This is the question that is asked over and over by coffee lovers around the globe, and I would like to provide you with a few answers in the form of highlights of the greatest coffee producers worldwide. Let us begin.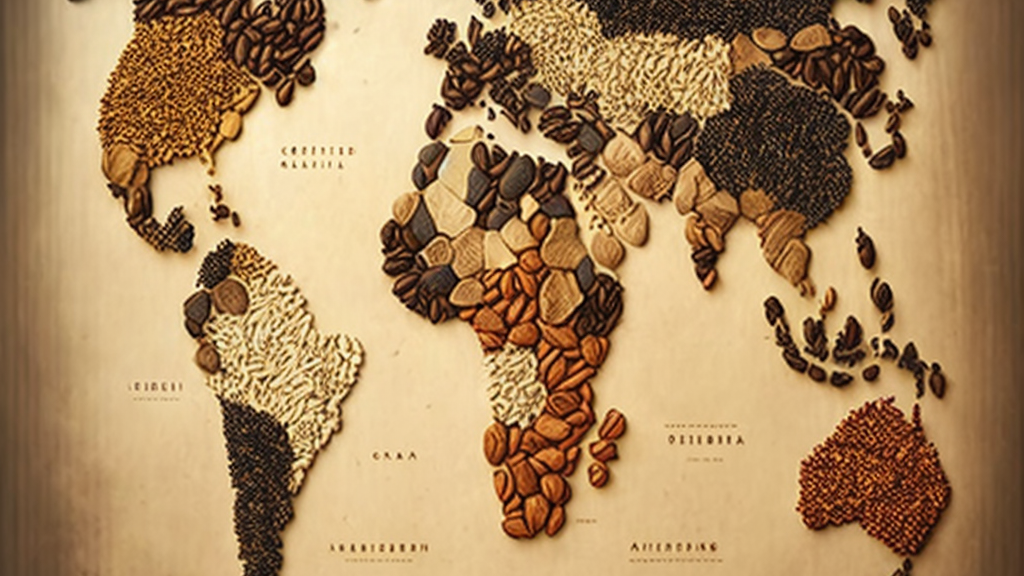 Ethiopia: This is where coffee originated, so look for beans hailing from the region of Harrar.
Colombia: The beans are produced at the foothills of the Andes and offer amazing and rich tones to the flavor.
Kona: Hawaii is actually the only US coffee producer due to the amazing tropical climate that enhances the flavor of the bean.
Southern Mexico: This is the 7th largest coffee producer worldwide, and the beans will mainly come from the regions of Chiapas, Oaxaca, and Veracruz.
Jamaica: The cool temperatures of the Blue Mountains provide the perfect location for a premium coffee harvest, and they yield one of the most expensive coffees in the world!
These are just a few of the top coffee producers worldwide, and I would love to hear back from you if you have any regions with amazing flavors that you would like to add to the list!
Factors to Consider When Buying Coffee Beans
When buying coffee beans, there are several key factors to consider in order to ensure you're getting a high-quality product. Here are some of the most important considerations to keep in mind:
1. Roast Level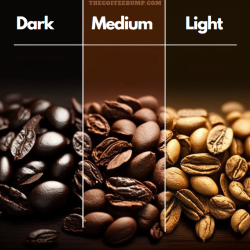 The roast level of a coffee bean can have a significant impact on its flavor and aroma. Light roast beans tend to be more acidic and fruity, while dark roast beans are typically more full-bodied and have a stronger, more robust flavor. Consider what type of flavor profile you prefer and choose a roast level accordingly.
Light roast beans are roasted for a shorter period of time, producing a lighter color and a more acidic, fruity flavor.
Medium roast beans offer a darker color and a more balanced flavor profile, with a balance of acidity and sweetness.
Dark roast beans have been roasted for a longer period of time, producing a darker color as well as a more full-bodied, robust flavor with less acidity and more chocolate and nutty overtones. The main thing to remember is that the darker the roast, the less origin flavor you'll be able to taste and the more the roast will impact the taste.
2. Bean Origin
The country of origin can also play a role in the taste of a coffee bean. Beans grown in different regions can have unique flavor characteristics, such as a bright, citrusy acidity from beans from a certain region or a chocolate and nutty taste from beans from another region.
Different countries' temperatures and soil conditions might result in distinct flavor characteristics. Coffee beans cultivated in Central and South America, for example, have a bright, lemony acidity, but coffee beans grown in Africa offer a more complex flavor with a wine-like fruitiness. Some coffee beans are blended, which means they are combined from different places to create a distinct flavor profile.
3. Grind Size
The grind size of a coffee bean can also affect its flavor. Whole bean coffee will stay fresh for longer, but if you're going to be brewing your coffee soon, it's best to grind the beans just before brewing to ensure the freshest taste possible.
Different brewing methods also require different grind sizes, for example, a French press requires a coarse grind, while a pour-over requires a medium-fine grind.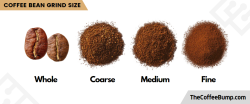 Whole bean coffee: Whole bean coffee is the best option if you want to ensure the longest shelf life and the freshest taste possible. Whole beans can be stored for several weeks or even months without losing their flavor, and you can grind them just before brewing for the freshest taste.
Pre-ground coffee: Pre-ground coffee is more convenient, but it can lose its flavor quickly because of the exposure to air, light and moisture. If you're buying pre-ground coffee, make sure it's packaged in an airtight container, and check the roast date to ensure that the beans are fresh.
Coarse grind: A coarse grind is best for brewing methods that use a metal filter or a French press. Coarse grind allows water to flow through the coffee grounds easily, which results in a less bitter and more full-bodied cup of coffee.
Medium grind: A medium grind is perfect for pour-over and drip brewing methods. Medium grind allows water to flow through the coffee grounds at a moderate speed, which results in a well-balanced cup of coffee.
Fine grind: A fine grind is best for espresso and Turkish coffee. Fine grind allows water to flow through the coffee grounds quickly, which results in a stronger, more concentrated cup of coffee.
4. Freshness
Freshness is key when buying coffee beans, as stale beans can result in a lackluster cup of coffee. Look for beans that have been roasted within the last two weeks and make sure to store them properly to maintain their freshness.
Beans should be kept in an airtight container in a cool, dark place, away from light and moisture.
By considering these factors, you'll be well on your way to finding high-quality coffee beans that are sure to produce a delicious cup of coffee.
5. Quality Certifications
Look for certifications such as Fair Trade, Organic, Rainforest Alliance and others that guarantee that the beans have been grown and harvested in an environmentally friendly and sustainable manner and also that the workers who produced it have been treated fairly.
This can ensure that you're not only getting a high-quality product, but also supporting ethical and sustainable practices.
What is Fair Trade Coffee?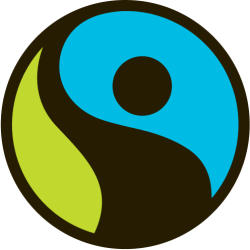 If this is a term that you have heard tossed around lately, then it is your advantage to discover what exactly Fair Trade Coffee entails so that you can be even more educated in your coffee purchases.
The good news about Fair Trade Coffee is that it is developed within a system that guarantees fair wages to the coffee farmers, which means that they are not only being protected but they are also able to use this equalizing income to provide an even higher quality crop under regulated conditions.
These farmers are even more likely to cultivate shade grown coffee, which turns out to be good for the environment since they are less likely to use pesticides and cut down forests to make room for their crops.
Fair Trade Coffee is not a type of coffee bean, but rather, it is a label for you to look out for to make sure that your coffee purchases are both benefiting you in terms of flavor, as well as the environment in terms of safety.
What Does the Rainforest Alliance Certified Seal Mean?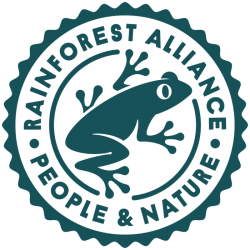 Rainforest Alliance certification helps to ensure that coffee beans are grown in a way that is environmentally friendly and that protects the rights of workers.
Part of being a savvy coffee drinker is understanding the seals and labels on your favorite brands of coffee. As you explore the more premium coffee brands on the market, you may have come across several labels like organic, fair trade, and even the Rainforest Alliance seal.
But what do rainforest have to do with your cup of Joe?
The truth is that the livelihoods of over 25 million coffee farmers and their families in 50 countries worldwide depend on coffee production. Many of these farmers live in poor areas that are considered endangered by conservationists. When these farmers use sustainable practices, they can conserve their local environment and also improve their quality of life. It is these farmers that are able to earn the Rainforest Alliance Certified seal on their coffee products.
If you as a consumer purchase Rainforest Alliance Certified coffee, you're giving coffee farmers incentive to grow coffee using sustainable methods that support the environment and the wellbeing of their community.
To give you a better example, let's examine the largest coffee producing nation in the world: Brazil. Brazilian coffee is farmed in biodiversity hot spots full of a wide range of threatened species. Rainforest Alliance Certified coffee farmers in Brazil produce shade grown coffee, enabling them to protect up to 50% of their farm land through conservation. This will protect priceless ecosystems to provide a safe home for rare wildlife like toucans, parakeets, and even the giant anteater.
Organic Certification
Ensures that the coffee beans have been grown without the use of synthetic pesticides and fertilizers. This can be beneficial for both the environment and the farmers who produce the beans.
This is a brief on eco-friendly types of coffee that are out there, but keep in mind when you are choosing one of these varieties, they are not only good for you, but they are good for Mother Earth. And doesn't that feel good?
Conclusion
In conclusion, buying good coffee beans requires some knowledge and attention to detail. By understanding the different types of beans, their origin, and the impact of growing conditions on the taste of coffee, you can make a more informed decision when purchasing. Additionally, factors such as roast level, grind size, quality certifications, and freshness are also important to consider.
Quality certifications such as Fair Trade, Organic, Rainforest Alliance, UTZ, and 4C Association are a good indication that the beans have been grown and harvested in an environmentally friendly and sustainable manner, and also that the workers who produced it have been treated fairly.
Grind size is also important, different brewing methods require different grind sizes, and the grind size affects the brewing time and the ratio of coffee to water, that's why it's important to know the brewing method you will be using.
Freshness is also key, as stale beans can result in a lackluster cup of coffee, look for beans that have been roasted within the last two weeks and make sure to store them properly to maintain their freshness.
By following these guidelines, you'll be well on your way to finding high-quality coffee beans that produce a delicious cup of coffee. Remember that the best coffee is a matter of personal preference, so don't be afraid to experiment with different types of beans, roasts, and brewing methods to find the perfect brew for your taste.
FAQ
Should you buy coffee beans from a supermarket?
Whether or not you should buy coffee beans from a supermarket depends on your personal preferences and priorities. Here are some factors to consider:
Quality: Supermarkets offer a wide variety of coffee beans, and the quality can vary widely. Some supermarkets carry high-quality coffee beans, while others may offer lower quality beans. It's important to read the packaging carefully and look for information about the beans' origin, roast level, and freshness.
Freshness: Coffee beans start to lose flavor and aroma as soon as they are roasted. If you're looking for the freshest beans possible, you may want to look for local roasters or specialty coffee shops that roast their own beans on-site. Supermarkets often have a high turnover rate for their coffee beans, but they may not be as fresh as beans that are roasted locally.
Price: Supermarkets often offer competitive prices for coffee beans, and you may be able to find good deals and discounts. However, if you're looking for high-quality, specialty coffee beans, you may have to pay a premium price.
Sustainability: If you're concerned about the environmental and social impact of coffee production, you may want to look for coffee beans that are certified organic or Fair Trade. Some supermarkets carry these types of beans, but you may have to do some research to find out which brands are committed to sustainability.
In summary, buying coffee beans from a supermarket can be a convenient and cost-effective option, but you may have to do some research to ensure that you're getting high-quality, fresh beans. If you're a coffee enthusiast or have specific requirements for sustainability, you may want to consider looking for local roasters or specialty coffee shops that offer a wider range of options.
How to Find the Best Local Roasters Near You?
You've probably heard it all before. You need to find an independent, local coffee roaster in your area if you want the very best coffee at its freshest point possible. Or maybe you are looking for something specific in a local roaster, like sustainable, organic, or fair trade coffee.
Either way, here are a few important tips that you can use to find top notch roasters near you:
Ask for samples. Most local roasters will be more than happy to offer samples or sell you a starter kit of their top roasts. It doesn't hurt to ask!
Attend events. Many local roasters will offer coffee cuppings whenever they get new beans in. Any type of event hosted by a local roaster will give you an opportunity to sample their wares and see what they have to offer.
Do your homework. You can start by searching online for local roasters near you, but make sure to read up on their websites and find out exactly what people are saying in their reviews. Many times, the best referral is word-of-mouth.
Check out a farmer's market. Many local roasters will frequent farmer's markets because the customers there are looking for something fresh, seasonal, and local – the perfect place to find freshly roasted coffee!
How To Maximize The Shelf Life Of Your Coffee Beans?
If you are a coffee fan in any way, then I can guarantee that you do not want to be drinking a stale cup of Joe! Am I right? The best way to keep your coffee beans fresh is to purchase them directly from an Internet retailer or roaster where they are freshly roasted the day that they shipped to you (like my website!). This is the only way that you can trust that you'll be getting the best flavor in your fresh coffee beans.
From there, the shelf life will be 10 to 14 days, so it is best to purchase the amount that you will need for about one week. Once you freshly grind your coffee beans, they will only remain fresh for up to two hours. That is why it is important to always freshly grind the amount that you want to use for the coffee you are planning on brewing.
Besides that, make sure that you store your freshly roasted coffee beans in a vacuum sealed container in a cool and dry location. Do not store them in the freezer because this will cause the essential oils to be corrupted because the beans will be depleted of moisture. This will directly and dramatically affect the flavor for the worst.
For the best way to enjoy your coffee, make sure that you are using freshly roasted beans that you grind before you brew!
How To Choose Amazing Artisan Coffee?
There are so many types of coffee harvested daily, but only a select few have the honor of being called artisan or gourmet coffee. These are the best of the best, and they are cultivated in strict and regulated growing conditions to ensure the highest quality. These kinds of gourmet coffee beans do require perfect soil and climate conditions, and you will mainly find them coming from regions like Africa, Asia, and Central and South America.
When you get ready to choose your favorite gourmet artisan coffee, then there are a few things for you to keep in mind. You will want to determine the body, acidity, flavor, and roast that suits you best. If this sounds like a daunting task, then don't worry, because there is no right answer! It is entirely up to your taste buds.
The body of the coffee is the way the heaviness feels on your tongue, so you get to either decide on a full or light bodied cup of Joe. The brightness refers to the acidity of the coffee, and all Java needs acidity so that it does not taste flat as a result. High acidity in the coffee will make it taste tangy and bright on your tongue. Next, you can consider which flavors you prefer in your gourmet coffee, which is similar to a wine tasting. You can decide if the artisan coffee you like is chocolatey, caramelly, fruity, earthy, or smoky.
And last of all you get to choose which roast type you like the best! Coffee is roasted until the beans crack for the first time, so the longer that it is roasted, the darker the roast will be. If you prefer a lighter roast, then you must select gourmet coffee beans that were roasted only after the first crack of the beans.
The options available to you are endless!
How Can You Choose the Best Flavored Coffee?
Flavored coffee has become more and more popular, starting the 70s in the US, and then spreading to Europe and the rest of the world. Originally, many different areas of the world were enjoying flavored coffee hundreds of years ago, including the South Americans, who used cinnamon, and the Africans, who used citrus. Nowadays, you can enjoy so many different varieties of flavored coffee, including Baked Alaska, Apricot Cream, and Almond Toffee found on my website!
Other than that, when you are buying flavored coffee, what you need to consider is to make sure that your roaster is still using high quality beans and not just hoping to disguise lower quality beans within the flavoring process. Also, ensure that they are using organic and natural oils to flavor the beans, which will give them the purest taste possible, as well as make them calorie and fat free. Many Java connoisseurs do frown upon flavored coffee, but the truth of the matter is that it is more popular than ever with higher quality processing. I myself am not one to judge, and I am all about having a cup of Banana Hazelnut Coffee to start my day!
How Can You Find the Best Flavor in Your Coffee Beans?
When you are looking to purchase delicious and freshly roasted coffee beans, then not just any bean will do. You need to put some thought into the growth process of the bean itself so that you can trust the final product in your cup of Joe.
First, consider the fact that premium coffee beans are grown and cultivated in higher altitude climates with regular temperatures, and they grow in a cherry on the plant that is then opened to reveal normally two coffee beans inside. If the coffee beans inside the cherry are completely round, then those are pea berries, which is a specific type of specialty coffee in demand. It is best to look for Fair Trade and Organic coffees because you can trust that during cultivation of the plants there were no pesticides used and crop rotation was also in effect to give the plant more nutrients to be harvested.
If you want the best of the best in flavored coffees, then know that they are created by adding natural and organic oils at the ratio of 1/2 ounce per pound of beans so that they are still calorie and fat free because of the natural flavorings. Make sure that the flavored coffee beans that you are buying have natural and organic flavors added so that you are not drinking any coffee that has harsh chemical additives.
With these tips, you will have an easy time finding the most premium coffee beans for an excellent cup of Joe!
Is Single Origin Coffee the Way to Go?
If you are wondering more about single origin coffee, it may be the perfect option if you are hoping for a purer taste within your cup of Joe.
Single origin coffee is just like it sounds, and it comes from a single coffee farm or growing region. Single origin coffee can come from coffee estates, and it can also be cultivated on a single coffee farm.
The benefit that this provides to the coffee drinker is specific characteristics based on the harvesting method, climate, and growing conditions of the coffee beans. Any coffee connoisseur will be able to tell you that coffee from different geographic regions offers a variety of distinct flavors and tastes. Even more so, the more diverse coffee types that you sip, the more easily you will be able to tell where the coffee beans were grown.
Other types of commercial coffee products include coffee blends, which can encompass anywhere from 2 to 8 different types of coffee beans. These are custom created by a roastmaster for a detailed purpose in using specific percentages and types of coffee beans to produce a distinct body, aroma, and flavor within the brew. This type of coffee blend is often preferred by many coffee drinkers because it offers a complex and custom-made taste for a specific coffee palate.
The bottom line is that if you are hoping for a pure and individual taste in your coffee beans, single origin is the way to go because it comes from one geographic coffee growing region to offer a distinction to your cup of Joe!
What Is So Special About Arabica Beans?
You may have heard a lot of buzz about the two varieties of coffee beans that are available on the market, Arabica and Robusta.
Arabica are seen to be the more premium beans, while Robusta are seen to be the cheaper filler variety. If you are purchasing coffee from a specialty outlet (like my website!), then you can count on the fact that the only beans that you will find there are 100% Arabica. However, if you are purchasing your Java from a more general location, like a grocery store, then you need to watch out because you will find that the majority of the blends there do contain Robusta beans as a cheaper option.
Currently, coffee is grown in more than 80 countries around the world in areas near the equator between the Tropic of Cancer and Tropic of Capricorn. This provides the perfect climate and growing environment for a decadent Java bean, and even more, it is preferred to look for Arabica beans grown at higher altitudes because they provide the best quality.
Make sure that you are purchasing organic when you are purchasing Arabica because that will guarantee that your coffee is harvested in safe conditions without the use of pesticides and also with crop rotation to give further nutrients to the plant. There is nothing more delicious!
Do Light Roasts Have Less Caffeine Than Dark Roasts?
Many people are fooled by the common coffee myth that dark roasts have more caffeine than light roasts because they have a fuller and more robust flavor. However, quite the opposite is true!
A dark roast is roasted for a longer period of time, which means that it ends up burning off some of its weight in caffeine during the lengthy roasting process.
This means that pound for pound, a light roast will have more caffeine than a dark roast. Furthermore, keep in mind that Robusta beans actually have twice the caffeine as Arabica beans, though they are not the preferred coffee bean type because they are seen as cheaper fillers with a lower quality taste.
When you're considering a cup of Joe, a regular cup of coffee will have more caffeine than a shot of espresso because of the extraction time. An espresso is extracted for ideally around 25 seconds, and a cup of coffee can take up to four minutes to extract.
This means that the fresh coffee grounds are in contact with the hot water for longer, leaving more caffeine in the final cup of Joe. For a quick fix with the most caffeine, try a light roast to wake you up!